Moisture Meter   M-700
•Digital Type Multi-Function
The Moisture Meter M-700 is a complete instrument for measuring moisture levels in a wide variety of materials. The user switches the" MODE" function for different types of materials such as wood to get a more accurate reading. The "REC" data-recording with "H-D" data-hold function can be used to store and compare the different moisture readings of a particular material.
 • Applications
Wood, Bamboo, Building, Leather, Cloth, Medicine, Paper, Powder, Ceramics, Cement, etc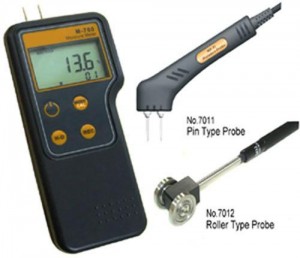 • Features
High accuracy level.  Automatic  temperature compensation.

Automatic/Manual Power off . Data-Hold function.

Stores maximum and minimum readings.

Adaptable to different temperature probes depending on the material being measured.

Eight (8) types of wood calibration scales.

Built-in calibration (CAL) function and adjustable by the use of a potentiometer.

Power supply : 9V battery. Option for AC adaptor is available. Low power warning.

Shock and dust proof .  Easy to operate.
• Options
Roller Type Moisture Probe………..…No.7012       

Moisture Electrodes (pin)……………No.701

Bolt of Electrodes…………………….….No.702B

AC Adaptor…………………………………No.7019
• Product Specification
Measurement range ( % WME)

5.5 ~ 99.9%  (Digital LCD Display)

Accuracy (at 25°C)

±1%

Resolution

0.1%

Operating Range

-10°C ~ +50°C (with temperature compensation)

No. of wood calibration scales

8 (choose from "MODE" key)

Sampling Rate

Approx. 1 reading/second

Main Functions

Auto/Manual turn off, Hold function , Record Maximum & Minimum values, Built-in Calibrator, Wood Calibration Scales, Low Battery warning.

Power Supply

One  (1) 9V Battery or AC Adaptor (optional)

Battery Life

Approx. 180 hours of continuous use

Dimensions

Meter

168 x 73 x 33 mm (6.6 x 3.0x 1.3 inch)

Probe

L:120 mm, Cable:1 meter (Pin Type)

Weight

Approx. 180g, (6.3 oz) including battery

Accessories

Pin type moisture probe (No.7011)

Protection cap (No.703M)

Latching carrying case (No.755C)

Operation manual (With wood calibration scales)

Print